Recently Rafale landed at Ambala Airbase in India. The first batch has been dispatched. Since then the comparison of Rafale has been started. People are comparing Rafale with China's J-20 (Chengdu). This comparison is unlike any other comparison because the former Air Chief B.S Dhanoa himself stated that Chinese J-20 does not even come closer to Rafale. He further said that if the Chinese aircraft were so capable then why didn't the Pakistani use JF-17 aircraft instead of F-16. Pakistani did not keep JF 17 in the main lead. They also used the French-made Mirage and the JF-17 were the last in the formation.

The radar in the Chinese JF-17 was so weak that they were replaced by European radar. Overall our former Air chief B.S Dhanoa mentioned that Chinese technology is just over-hyped and is also least effective in practical scenarios such as that of during war times.
Chinese Air Force has many fighter planes such as Sukhoi SU-27, Chengdu J-7, Sukhoi SU-30, Chengdu J-10 and many more. But comparing these Aircraft with the Dassault Rafale will be an insult for the mighty Rafale. Therefore we are just focussing on Chengdu J-20.
Is Rafale a 5th generation Aircraft?
Chengdu J-20 is a fifth-generation aircraft. It was developed by China's Chengdu Aerospace Corporation. Rafale is said to be a 4.5 generation aircraft. Although it may seem that Chengdu J-20 is more advanced than Rafale in the case of generation.
But when it comes to the definition of 5th generation Jet Fighter there arises a controversy as there is no fixed definition for that. Lockheed Martin defined them using certain features. These features include a highly integrated computer system capable of networking with other elements, high-performance airframes, low probability of intercept radar, all-aspect stealth even when armed etc.
In today's world, there are only three 5th generation stealth aircraft. Two of them, are F-22 Raptor and F-35 Lightning II, developed by the USA. The third one is Chengdu J- 20 that is made in China. US defence manufacturers claim that the Chinese Chengdu J- 20 is an exact copy of F-22 Raptor. Even Russia is also developing its fifth-generation aircraft. It will be ready by the end of 2020. It will be launched by the name Sukhoi Su-57.
Some officials in the US had claimed that the F-22 Raptor aircraft is quite different from other aircraft and is much better due to its Stealth Technology. But in a mock drill between several countries like France, USA, Russia and many other countries, the F-22 Raptor and Rafale also participated. Interestingly Rafale was able to detect F-22 raptor very easily and a simulation missile was launched. Likewise, Rafale can therefore detect Chinese aircraft, which is claimed to be a copy of the F-22 raptor. The main feature of a 4.5 generation aircraft and a 5th generation aircraft is that, they are upgraded with AESA(Active Electronically scanned array) radar. Surprisingly both the aircraft Rafale as well as J-20 is equipped with AESA radar.
What makes Rafale Superior?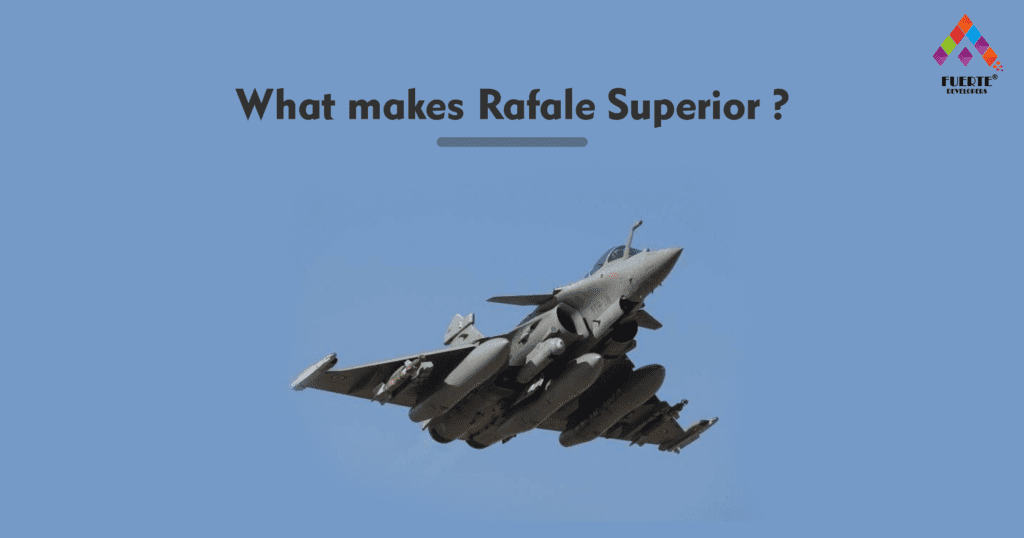 What makes Rafale outshine J-20 is the Spectra. Spectra is a shield against all threats. As
mentioned on the official website of Rafale, the Spectra is a fully internal electronic warfare system available with many components. Due to the Spectra technology, it becomes difficult to detect Rafale. Not only this, but Rafale can also jam the radar of other fighter aircraft with the use of the spectra technology. China could not develop Spectra technology as
it required huge experience and renowned laboratories.
Rafale's Missile v/s J-20's Missile
When it comes to weapons for air to air combat, Rafale's Meteor Missile is compared with the Chinese PL-15 missile. There is a huge difference between these two. The operational range of the Meteor missile is almost 100 km and it has a No Escape Zone of 60 km, which means if it hits any target within a range of 60km then no aircraft can dodge away from this missile. It is an extremely fast missile. Whereas on the other hand, China claims that the PL-15 missile is in the 300 km range. But this missile is more effective on large aircraft like refuelling aircraft and transport aircraft, not for small fighter jets which can manoeuvre very easily. These are the main reasons for claiming that Rafale is much better than the Chinese J-20.