Who is not fond of playing computer games? But computer games or video gaming can be a career option? Yes, professional gamers all over the world earn approximately 1 million dollars each year.
How do gamers earn?
They earn through tournament prize money, sponsorship, and advertisements on YouTube. Most earnings are generated by playing popular games like Counter-Strike. However, the competition of such games is sky-high. These gamers get about 50-55% of their earnings from advertisements while streaming games on YouTube. They get 13% of their earnings from sponsorship and when they win any tournament they get prize money which is 10-11% of the earnings. Their salary is almost 7-8% of the total revenue but in this top experienced players are able to earn a hefty sum of money. In the whole world, there are only 3000-4000 people who earn money through professional video gaming. Good players who play Counter-Strike have a monthly salary of $10, 000 -$15, 000. Top 100 players which earn $1 million every year, earn $125 thousand from prize money, $150 thousand from twitch, $625 thousand from YouTube's ad revenue, $150 thousand from sponsorship and get a salary of minimum $1 lakh for a year.
Why is Dota 2 so popular?
Dota 2 has the maximum prize money that is $21 million which is even greater than the prize money of 2010 World Cup at $10.5 million. The pro gamers of Dota on average earn up to $20 thousand every year by winning tournaments while its top 20 gamers earn more than $4 lakh per year. It can be clearly anticipated how different the earnings of pro gamers are from the regular ones.
28 years old German, Kuro Takhasomi is the world's highest-paid gamer. He was a member of team liquid. He has earned around $3.7 million playing Dota 2. All of the top 10 high-paid players play Dota 2 because it provides the maximum prize money.
How do companies sponsor gamers?
There are other popular games also like Fortnite, Call of Duty etc. Gaming is in the early stages in India, there are some people who do gaming on a full-time basis though. Companies are slowly sponsoring gamers from India. Just like the Indian Premier League, there are teams of gaming too that are funded by the companies. All the players in this live in a house, they have a team manager. They are given all the basic facilities including a cook, housekeepers etc. They do gaming practice for about 15-18 hours per day. They play games and then go through their recordings and other competitor's games so that they can improve themselves. These players are also given salaries of 8 – 12 thousand per month. Top players are paid with a 20-25 thousand monthly salary. However, gamers don't really have to do any spending because all their expenses are borne by the companies which sponsor them.
Some teams are independent and are not funded by any gaming organization. They earn through sponsorships and prize money. With competitions being held every week, opportunities for gamers have steadily risen.
How do gamers earn through streaming?
In E-sports players get transferred like IPL and UPL. India's gaming is getting better slowly. There is very high competition in professional gaming. There are very few players who win the game, other players earn through streaming on YouTube and Twitch. Popular gamers in India like Carry Minati earn through streaming games on YouTube. One can earn by Twitch through various ways. Twitch in September 2014 was bought by Amazon for almost $970 million. People can stream various games on Twitch and you don't have to be a good player to play a game. You must have some unique personality traits which may attract people to watch you. For viewers viewing streaming of their favorite gamer is just like entertainment to them. Gamers can become Twitch partners if they stream at least thrice in a week and people like to watch them. Twitch partners are paid a little amount of revenue Twitch earns through advertisements, it's just like the monetization of YouTube. You can subscribe to your favorite gamer in Twitch by paying $5 monthly. Users get many benefits in Twitch, their username is broadcasted in live streaming and they can also send emoticons.
Half of the subscription revenue is taken by the gamers and half is taken by Twitch. Some of these features have been adopted in YouTube too but getting views on Twitch is not an easy task due to the unsettling competition. League of Legends is played by more than 900 people on Twitch and only 35 people get more than 500 and less than 17 people get more than 1000 views. People can also donate directly to the streamers  using PayPal. Popular Twitch gamers also get a lot of sponsorships. Streamers can also add their affiliate link below their stream and earn.
Gaming as a profession
To many people gaming may seem as mere timepass but in South Korea , USA and China it is considered as a sport. Gamers are not paid money equal to footballers and cricketers  but the viewership and prize money of E-sports is rapidly increasing. In a few years E-sports will be able to compete with normal games. There is a lot of competition in gaming as well just like normal games but players of E-sport are not much respected because people believe anybody can become a player sitting at home, the usual belief. This is not the truth but, gamers are able to earn only if they play brilliantly and to reach the level of international gaming they have to do hard work for many years . They too have to do regular practice for 12-18 hours just like sports players. To get views on Twitch and YouTube is also not as easy too, It takes consistency and unique skills to get a lot of views.
How to become a gamer?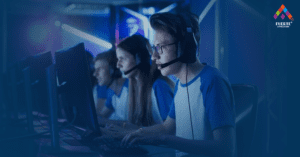 Ask yourself this question if you want to become a gamer: Can you play a certain game for more than 10-15 hours on a daily basis? You will have to stick to Video gaming for 2-3 years without earning any money and even after that there is no guarantee whether you'll be successful or not. Don't leave your job at the start for gaming. Slowly and gradually as your gaming level increases take part in local tournaments. You can also ask for help from players who are already earning a fine. To be a part of the video gaming community is also very important as it will give you information regarding the current situation and the future estimation of the gaming world. Reviewing your own games can help you recognize your weaknesses and you can then work on improving them. You can learn new strategies by watching your competitors' games. It is important to have the mental and physical strength and stamina to play. Video gaming or Online Gaming is no less than any other sport and if you put in some real efforts you will be paid off right.